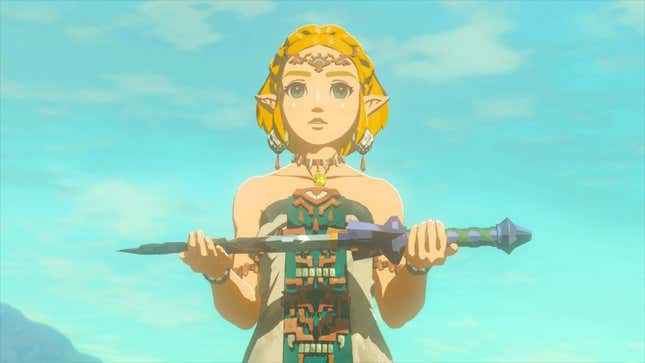 In a new interview with Famitsu, Nintendo has revealed there are no plans for any DLC or expansions for Zelda: Tears of the Kingdom. As spotted by Eurogamer, Zelda producer Eiji Aonuma told the Japanese publication that he'd "done everything" there was to do in this incarnation of Hyrule.
The Week In Games: Return To Hyrule
TotK is the second time Nintendo had developed a Zelda game set in this space, with this year's sequel building above and below the original world of BotW. It seems that means it was quite enough for producer Aonuma and director Hidermaro Fujibayashi, however.
In a wide-ranging interview about the game, the pair explain how they deliberately hid that the game would have a vast new underground to explore when promoting it pre-release, and the last-minute efforts that went in to being able to seamlessly travel from the sky islands to the underground realms. And how, yeah, they were expecting the awful treatment of the poor Koroks.
When the interviewer asks about future projects (after failing, as ever, to get a straight answer about the series' timeline), Aonuma explains that they have no current plans to return to the Breath of the Wild version of Hyrule. "I feel like we've done everything we can to create fun in that world," he tells Famitsu (translated by Google).
Tears of the Kingdom sold over 18 million copies in just its first two months on sale, and there'd likely another billion dollars just waiting to be taken with an expansion to the game. But Nintendo is going to do what Nintendo wants to do, and adding an expansion isn't one of those things.
Fujibayashi said that he's already thinking about his "next fun experience," but it's likely to be yet another reinvention of the Zelda franchise. And rather impressively, when asked if they feel overwhelmed by expectations for something "even more amazing" next, Aonuma says he and his team welcome it! "[The] development team don't see this as a hurdle," he said.