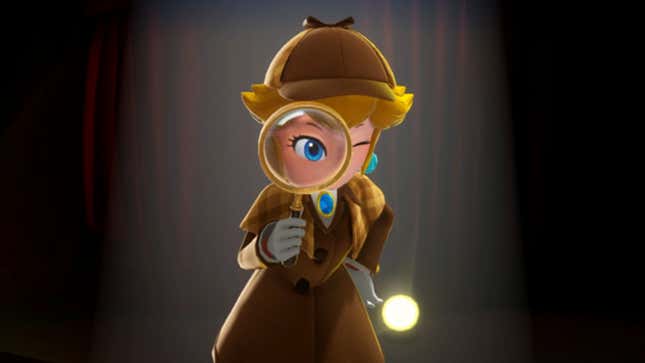 Previously only briefly teased without any concrete details, Nintendo has now done a full reveal for its upcoming game starring the one-and-only Princess Peach. Making its full debut during the September 14 Nintendo Direct, Princess Peach: Showtime! involves the iconic princess changing her outfits Sailor Moon-style, which will give her new abilities every time.
What You Should Know About Mario Strikers' Big Free Update
Princess Peach: Showtime! begins with Princess Peach and some Toads heading to the Sparkle Theater to catch a play. But before it even begins, the wicked Grape and the Sour Bunch ruin the show, forcing Peach and theater guardian Stella (a floating star) to stop her.
Nintendo
At first, it seems the dynamic between Peach and Stella is Princess Peach Showtime!'s core gameplay—Stella floats behind Peach and her ribbon-like appendages can be used by the princess to slap away bad guys or snag hard-to-reach coins. But the trailer soon reveals that Peach will wear a lot of different hats in this upcoming game, as she transforms into Swordfighter Peach, who wears a fancy hat, britches, and long coat. Yes, she has a sword, and she knows how to use it.
But wait, that's not all. Peach can also transform into Detective Peach to help find valuable artifacts stolen from a museum by tracing down clues. Or she can become Patisserie Peach to partake in a desert-making minigame to keep a pastry shop open after someone steals all their sweets. Or, Kung-Fu Peach can beat the hell out of some baddies in a martial arts school. Personally, I'm just happy to see Peach finally wearing some pants while also embracing her femininity in other moments—girls can do it all!
There are "many other transformations" available for you in Princess Peach: Showtime, but we only saw those during the trailer.
Princess Peach: Showtime! releases on March 22, 2024 for Nintendo Switch. It's available for pre-order now.
…