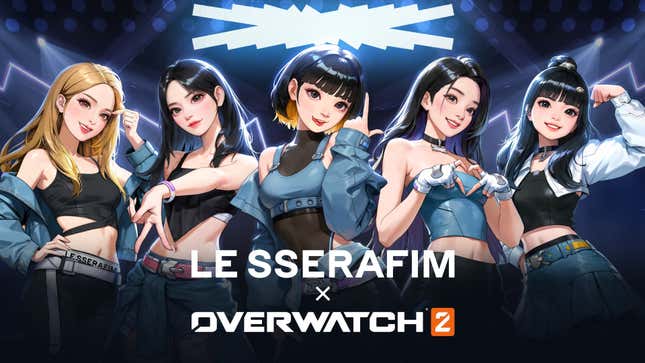 Overwatch 2 has been taking a page out of Fortnite's book lately, increasingly making cross-cultural, in-game collaborations part of its repertoire. We've already seen crossovers with the popular Shonen Jump anime One Punch Man, WWE superstar John Cena, and a Blizzard in-house collaboration with Diablo IV. Now, the free-to-play hero shooter is setting its sights on a music collaboration with the popular K-pop girl group LE SSERAFIM.
Overwatch 2's New Story Missions: Worth The Money?
On October 18, Blizzard announced Overwatch 2's first music collaboration, which will see a custom game mode and hero skins inspired by K-pop stars LE SSERAFIM appear in the shooter on November 1. LE SSERAFIM is the five-member girl group behind popular songs like "FEARLESS" and "ANTIFRAGILE." The collab will see a LE SSERAFIM-inspired custom game mode and items like hero skins coming to Overwatch 2 on November 1. But Blizzard isn't just sprinkling some LE SSERAFIM into OW2's in-game store; the hero shooter will also be featured in the music video of LE SSERAFIM's upcoming single "Perfect Night" which debuts on October 26 at 9 pm PDT. You can see one of the members (don't ask me who) wearing D.Va's headphones in their "Perfect Night" concept trailer video so we can at least take pride in knowing that they have good taste in heroes.
LE SSERAFIM / HYBE LABELS
Why would Overwatch 2 collaborate with LE SSERAFIM, you might ask? Well, when they formed in 2022—the same year as OW2—the girl group boldly proclaimed that they would stand at the pinnacle of their musical genre, and their name is an anagram for "I'm fearless," so their spirit matches the game's whole competitive drive. Plus, the group has 8.9 million listeners on Spotify and over 6.5 million followers on Instagram. The prospect of reaching all those people probably has something to do with why Blizzard would like to have the group for its first in-game music collaboration.
"We're extremely excited to be working with LE SSERAFIM for our game's first musical artist collaboration," Overwatch general manager Walter Kong wrote in a press release. "Like the heroes of Overwatch, the LE SSERAFIM members are amazing as individuals, but unstoppable when they come together."
LE SSERAFIM will also perform at BlizzCon on November 4, playing their new single, "Perfect Night," and other tunes.
…