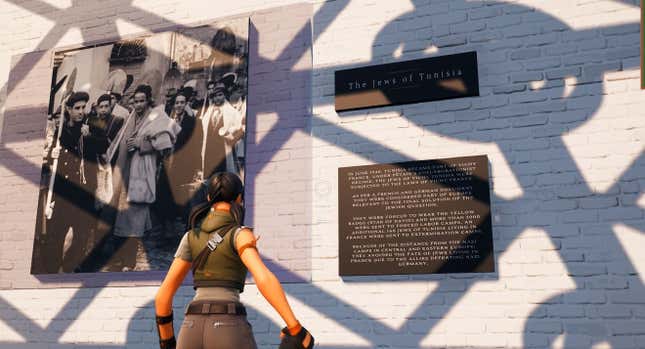 Fortnite, Epic Games' crossover meme of a video game, is once again becoming the stage for some historical education, as a group of developers has used Epic's Unreal Editor For Fortnite program to create an in-game museum dedicated to the Holocaust.
Dead By Daylight Devs' New Game Is Fortnite Meets Doom
As absurd as that might sound in premise, Fortnite did this in an official capacity for Martin Luther King Jr., and it was a well-intentioned if incredibly jarring tribute to a civil rights figure's legacy. However, unlike that display, which was done as part of an official Epic Games partnership with the DuSable Museum of African American History and the Estate of Martin Luther King, Jr., this is from Luc Bernard, who directed The Light and the Darkness, a free historical game meant to educate players on the events of the Holocaust.
Bernard posted about the in-game display on Twitter, saying bringing something like this to Fortnite's millions of players can bring museums and all their information to people, as a vast majority of people never visit these places in-person. According to a study, around 80 percent of people have never visited a Holocaust museum, so a digital alternative may at least reach some new people. In an interview with Euronews, Bernard said this was especially to reach Fortnite's younger audience.
If you want to see the museum for yourself, it's not live yet. But when it is, the code for the map is 4491-8501-3730.
All UEFN projects go through Epic, which has veto power over anything that comes through the system. So between the people making it and the big corporation approving it, I'm willing to give it the benefit of the doubt that this will be informative and respectful, even though Fortnite feels like a strange platform for this kind of thing. The game's scale and reach makes it ideal for creators and historians to use it, but all the best intentions won't make it any less ridiculous when you see Rick from Rick and Morty and Master Chief reading about one of the most heinous acts of human cruelty known to man. All that being said, kudos to the team, and I hope this reaches people and proves Fortnite can be more than just a meme.
…