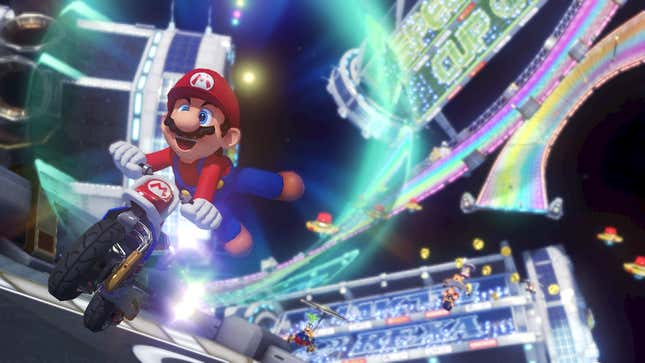 The Wii U isn't dead, it's just resting. Nintendo finally brought the console's servers for Splatoon and Mario Kart 8 back online after a mysterious five month outage. "Please accept our sincere apologies for the extended waiting period," the company wrote in an update, though it's not making any promises that the games won't shut down again if the problems come back.
Thank You, PS Plus, For Making My Backlog Even Bigger
For months, Splatoon and Mario Kart 8 players on Wii U were completely cut off from one another after Nintendo brought the games' multiplayer servers offline to address an unspecified "vulnerability." While the company never elaborated on what the issues were, some players speculated it was related to malicious hacks that could take control of people's systems.
"The security vulnerability is almost certainly ENLBufferPwn, which could allow an attacker to take over your console just by connecting to them online," Nintendo dataminer OatmealDome tweeted back in March of this year. "This exploit affected many of Nintendo's games on the Switch, along with Mario Kart 7 on the 3DS."
Whatever the issue was, it didn't end up being a quick fix. The outage went from lasting days, to weeks, to months. Now, service will finally resume again on August 3, over 150 days later. "If further issues occur which make it difficult to continue supporting online play, we may have to discontinue the online play service for the Wii U games Splatoon and Mario Kart 8 at short notice," Nintendo wrote. "Should this occur, please note that offline play would continue to function normally."
While some fans continue to play on Wii U simply because they still haven't upgraded to the Switch, a few actually prefer the original version of Mario Kart 8. The Deluxe port, for example, doesn't allow you to turn off the new DLC tracks. It also doesn't offer online play at 100cc at higher tiers, and includes a second item box. According to HolidaySecurity3158 on the Wii U subreddit, that all adds up to a game that's too chaotic for them.
Fortunately for them, the old version is still available to play online, at least for now. Wii U hackers may have other plans.
…