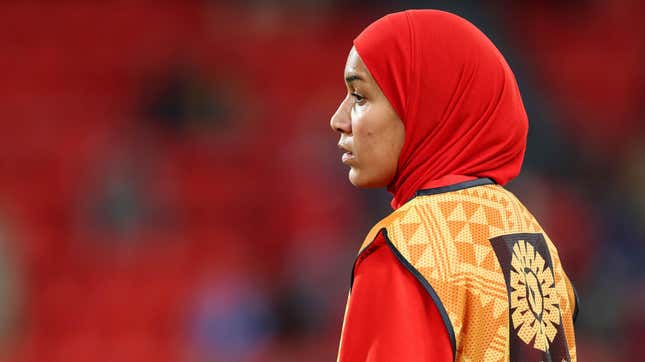 A recent FIFA 23 update adds 25-year-old Moroccan footballer Nouhaila Benzina's hijab to her in-game character model, signifying the first time EA's soccer simulator has ever included a head covering on a player.
6 Things To Know Before Starting Persona 5 Tactica
History necessitated it: Benzina, whose team is reshaping global expectations by killing this year's Women's World Cup, is also the first senior-level World Cup player to wear a hijab during a game. FIFA completely lifted its head coverings ban (which existed, strangely, out of fear of coverings impacting player "safety") in 2014 (when it discovered that a tied strip of cloth is not exactly a safety hazard).
It's taken nearly a decade for a player like Benzina to take full advantage of the altered policy, though, no doubt in part because of the unfair and conflicting cultural roles placed specifically on Muslim women. These stringencies include those placed on women by countries like France, which defies FIFA rules and bans French soccer players from wearing headscarves.
But the Moroccan team has been pushing forward. "We are honored to be the first Arab country to take part in the Women's World Cup," said Morocco team captain Ghizlane Chebbak ahead of its win against South Korea on July 30. "We feel that we have to shoulder a big responsibility to give a good image, to show the achievements the Moroccan team has made." Benzina wearing her hijab on the field that day, and every day, was a simple act of self-determination, one that sends pride rippling through the world.
"I have no doubt that more and more women and Muslim girls will look at Benzina and just really be inspired—not just the players, but I think decision makers, coaches, other sports as well," said Muslim Women in Sports Network co-founder Assmaah Helal told the Associated Press earlier this summer.
Other updates from FIFA 23's Title Update 16 include fixed stadium graphics, bug fixes for injured players, and an "added ability to switch between Online and Offline status" on EA Social.
…