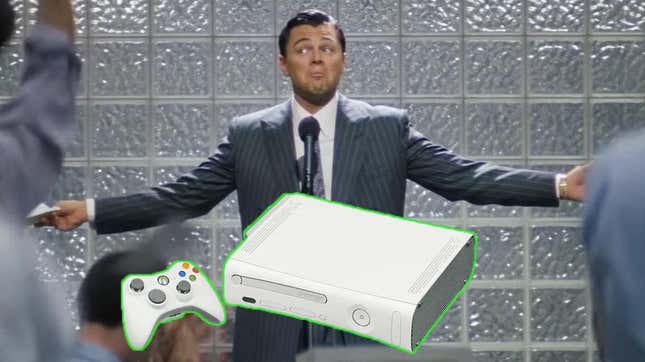 A newly unsealed FBI indictment accuses a former analyst at Goldman Sachs of insider trading, including allegedly using an Xbox to pass tips onto his close friends. The friend group earned over $400,000 in ill-gotten gains as a result, federal prosecutors claim. "There's no tracing [Xbox 360 chat]," the analyst allegedly told his friend who was worried they might be discovered. He appears to have made a grave miscalculation.
Thank You, PS Plus, For Making My Backlog Even Bigger
The FBI arrested Anthony Viggiano and alleged co-conspirator Christopher Salamone, charging them with securities fraud on September 28. Viggiano is accused of using his previous position at Goldman Sachs to share trading tips with Salamone and others. Salamone has already pleaded guilty. Bloomberg reports that this is the fifth incident in recent years of a person associated with the investment bank allegedly using their position to do crimes.
Viggiano and Salamone were childhood friends, the FBI claims, and beginning last last Salamone allegedly purchased shares and call options for obscure companies including Maxar Technologies, Atlas Technical Consultant, and Syneous Health, after receiving tips from Viggiano. It sounds like at least some of this insider info was shared on Microsoft's high tech, ultra-secure gaming platform.
"Signal, or like Xbox 360 chat, there's no tracing that, good luck ever finding that," Viggiano allegedly told Salamone in a recording made by the latter after both were first interviewed by the FBI in June. The two were discussing who in their inner circle might flip, with Viggiano trying to assure Salamone that potential incriminating evidence was out of the FBI's reach. "So, I mean, at worst—we're talking worst-case scenario, maybe I said something in…like the very first [message to Steve]. But that's the worst case."
It's not clear if both friends actually still played games on the Xbox 360 in the year 2022, or if Viggiano was mis-remembering the name of the Xbox One or Xbox Series X/S. Maybe they did use the original 2005 console to communicate, thinking it was somehow more private as a result of its archaic interface and outdated systems. We also don't know if the FBI ever actually got ahold of the Xbox chats in question, or merely got Salamone to confess by making it seem like they did.
Probably best to keep the crime talk on Xbox to a minimum either way, especially now that Microsoft is using AI to monitor communications for illicit and toxic activities.
…