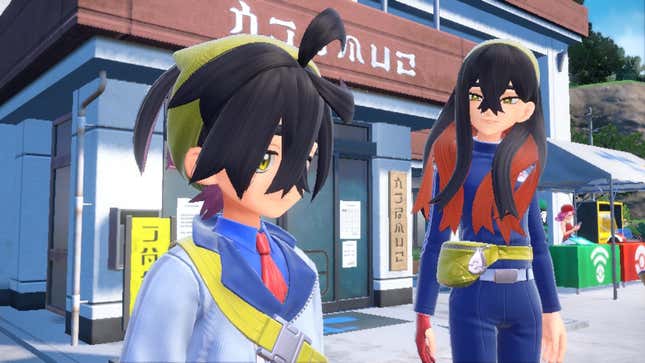 Pokémon Scarlet and Violet's first DLC, The Teal Mask, is finally out, and it takes the player and all their pocket monsters on an exchange student program to the land of Kitakami. In this wondrous land they'll find new Pokémon to catch, new friends to make, and, as fans have discovered, restrooms that are gender-neutral.
The Week In Games: Pocket Monsters And Simulated Goats
I, like many other players, stumbled upon this discovery in the first 10 minutes of arriving in Kitakami, at the community center where my character was staying. In the lobby, you find three restrooms. The men's and women's restrooms are designated by Pikachu tails, with the former featuring the flat edge at the end that male Pikachus have and the latter displaying the rounded, heart-shaped end females do. The third restroom is marked by just a silhouette of Pikachu's head, and when you examine it, the text reads "This restroom can be used by anyone!"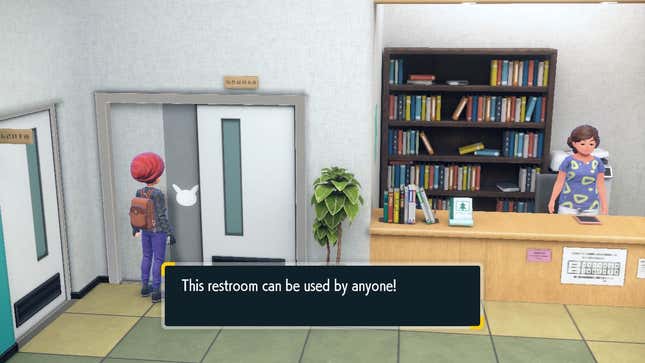 It's a small thing in a universe that has certainly had queer characters and even what seem to be in-universe references to queer culture, like ex-Galar Champion Peony possibly being a gay icon with a largely male fanbase. But a lot of that has been subtext, and having gender-neutral restrooms is a pretty explicit recognition of queer and non-binary characters existing within the Pokémon universe. It's great to see, and hopefully this means we could see an actual gender-neutral character creation option in the series' future, with they/them or other pronoun toggles in later games.
Even if Pokémon has kept much of its acknowledgment of queer identity buried in subtext, the franchise has amassed a big queer fanbase over the years, especially surrounding the Fairy type.
The Teal Mask is the first of two DLCs coming to Scarlet and Violet, with the second, titled The Indigo Disk, set to launch later this year. Together, they make up the Hidden Treasure of Area Zero expansion that wraps up the story of the main game.
Buy Hidden Treasure of Area Zero: Amazon | Best Buy | GameStop
…