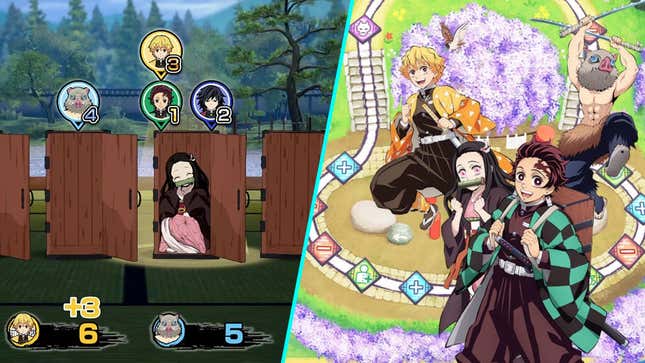 Demon Slayer, the mega-popular shonen anime series about a group of samurai…slaying demons, is getting a new video game on the Nintendo Switch. But this one isn't a typical anime fighting game, but a Mario Party-esque board game instead. Although no U.S. release was initially announced, on September 13 Sega confirmed that it's coming our way in 2024.
New Pokémon Scarlet And Violet Trailer Features Hot Profs, 4-Player Co-Op, And Lechonk, The Hero We Deserve
Demon Slayer: Kimetsu no Yaiba – Mezase! Saikyou Taishi! (which loosely translates to "Aim to be the Strongest Soldier") is a four-player party game in which you compete with friends in a multitude of minigames—just replace the titular plumber with fashionable samurai. Just like in Mario Party, you'll roll dice to move across the tiles of a board game and test your skills in lighthearted games like guessing which box Nezuko is hiding in or whatnot. Aim to be the Strongest Soldier's night cycle, however, swaps its devil-may-care fanfare with missions in which you must find and eliminate demons. Y'know, just like what happens in the anime.
Aniplex
While Aim to be the Strongest Soldier relegates series best girl Nezuko to being a supporting character, the game will let you play as protag Tanjiro Kamado, Zenitsu Agatsuma, Inosuke Hashibira, and nine Hashira members, according to Siliconera.
Despite the box office success of its feature films, incredible manga and anime sales, and its yearly sweep at Crunchyroll's Anime Awards, Demon Slayer has only gotten one video game so far. Demon Slayer: Kimetsu no Yaiba – The Hinokami Chronicles was an arena fighter developed by the anime pros at CyberConnect2, which also made the popular Naruto: Ultimate Ninja Storm series.
Hinokami Chronicle received an English-language release from Sega, and now, the company has confirmed that Mezase! Saikyou Taishi! will see one as well. Here, it will be rechristened Demon Slayer: Kimetsu no Yaiba – Sweep the Board! Great news for folks who exist right at the center of the Venn diagram of Mario Party fans and Demon Slayer fans.
Updated: 9/13/23, 2:00 p.m. ET: Added information about the newly announced English-language release.
…