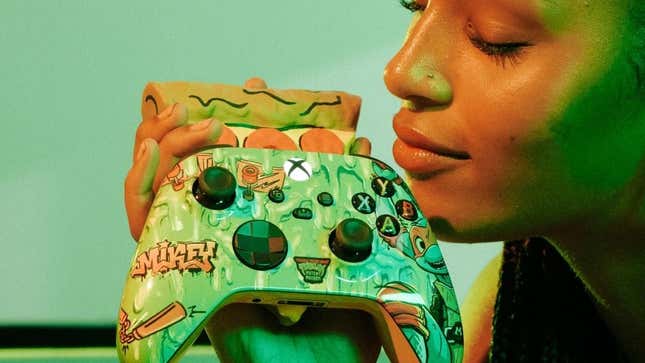 Is that delivery? No, it's an Xbox Series X/S controller designed in a lab to smell like pizza. In the leadup to Teenage Mutant Ninja Turtles: Mutant Mayhem's August 2023 release, Microsoft is giving away a certain number of TMNT-themed, slice-infused controllers.
April's Air Combos Make Her TMNT: Shredder's Revenge's Raddest Playable Character
"Designed to deliver the smell of the Turtles' beloved meal to your game time, these exclusive Xbox Wireless Controllers come with a built-in scent diffuser shaped like a slice of delicious New York 'za," reads the official description. As long as it doesn't end up smelling disgusting, it will probably make you very hungry whenever you sit down to play, and probably kill your battery life in the process.
There are four unique controller variations—one for each of the four Turtles—sporting their names in graffiti, profile pic, and weapons of choice alongside the green ooze paint jobs. They actually look really neat, and like a lot of Microsoft's recent branded partnerships, it would be cool if you could actually just go out and buy them.
According to an official Xbox Wire announcement for the contest, all you need to do to win one of them is follow the Xbox Game Pass Twitter account and retweet the sweepstakes tweet. Perfect timing given the social media website continues to unravel before our eyes thanks to the brain-dead mood swings of billionaires and the sycophants in their inner circle who never tell them "No."
Microsoft's new TMNT crossover also extends to Minecraft, where a new DLC arriving August 3 will add playable Turtles, Krang and Leatherhead enemies, and locations from the movie including the heroes' sewer lair. We don't have any screenshots of what that will look like yet but it actually sounds super rad.
In the meantime you can always get into the pizza-eating, foot soldier-bashing spirit with 2023 GOTY contender Teenage Mutant Ninja Turtles: Shredder's Revenge (on Game Pass and PS Plus Extra) or the excellent Teenage Mutant Ninja Turtles: The Cowabunga Collection which collects every retro platformer and beat-em-up in the franchise's long-running video game adaptation history.
…