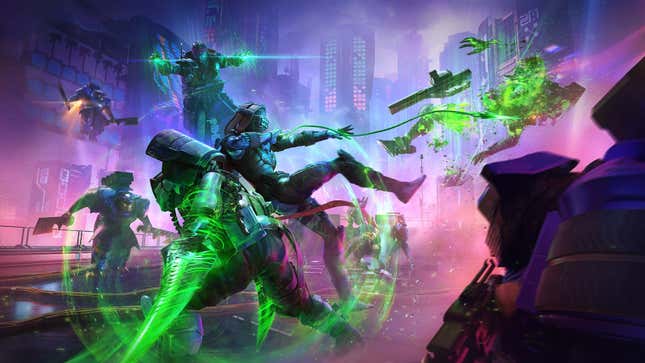 If you've read enough Reddit and Twitter posts over the last few months, you might have heard about an interesting Destiny 2 conspiracy involving Strand—an in-game power added in the online shooter's latest expansion—and The Witch Queen expansion from 2022. The theory suggests Strand was a leftover idea shoved into Destiny 2's most recently released expansion. But Bungie has responded to the theory and debunked it completely.
Diablo IV – Bear Bender Build
Released in March, Destiny 2's Lightfall expansion wasn't as well received or popular as the game's fantastic 2022 expansion, The Witch Queen. Among the many complaints, one was the inclusion of a new power, Strand. It wasn't that Strand felt weak or boring, but instead, the green-tinted power which focused on threads of energy seemed out of place in Lightfall's neon city of futuristic buildings. I'll admit that when playing through Lightfall, Strand felt almost shoehorned into the online shooter. You just kind of find it on the new planet and there you go. But some fans have taken this feeling that Strand is out of place further and suggested that's because the ability was not intended to be a part of Lightfall at all, but was planned for The Witch Queen DLC. They point to its green color—Witch Queen's DLC was covered in shades of green from the trailers to the Queen's world—and also suggest the power's focus on threads and connections fits better with 2022's expansion.
In an August 29 interview with PC Gamer, Destiny 2's director Joe Blackburn was asked about the veracity of this particular fan theory.
"Strand was never designed for Witch Queen," explained Blackburn definitively. "For one thing, it just takes us longer than a year cycle to make a whole new damage type."
Blackburn also found it funny that people assumed the green color of Strand was a sign it was connected to Witch Queen, as he said the color naturally came about in the development of Lightfall's neon-colored world of Neomuna, as it was intended to thematically connect to the planet's synthwave vibes.
"Strand was all Lightfall, all the time," said Blackburn, "and I'm sure that some people will never believe me unless they can go and see the flag fluttering on the moon."
Meanwhile, back in reality, Destiny 2's next expansion—The Final Shape--seems to be building toward a massive conclusion to the story that's been going on for a decade. The final DLC is bringing back beloved exo Cayde-6 and is ditching seasons for episodes. It's slated to release next February.
   .
…