I woke up today hoping to buy a cute plush of Pikachu wearing an outfit inspired by world-renowned artist Vincent Van Gogh, but scalpers got to it the second it went up on the Pokémon Center website. I'm frustrated, and that's the general sentiment a lot of Pokémon fans are feeling right now, as scalpers and resellers have poached the limited-time collaboration and left no scraps for the average fan.
The Week In Games: Pocket Monsters And Simulated Goats
If you're just tuning into this whole mess, Pokémon and the Van Gogh Museum are collaborating right now. The Amsterdam museum has an exhibit on display featuring art of Pikachu and friends made to look like some of the artist's signature works. When the on-site exhibit opened, the Van Gogh Museum store was flooded with huge crowds, several of whom were reportedly bragging about reselling the merchandise online to those who weren't lucky enough to be there. Rather than relying on scalpers, many folks who can't visit the museum were looking forward to the official online sales of merchandise launching today, September 29, on the Pokémon Center, as a way of buying a little piece of the exhibit for themselves.
Unfortunately, however, any such hopes have now been dashed, as mere moments after the landing page went live, several products were already sold out.
As you can imagine, this has left a lot of Pokémon fans with disappointment and scalpers with fat wallets, as these commemorative pieces are already showing up on auctioning sites like eBay. At a glance, the Pikachu Van Gogh trading card bundled with each purchase is selling for around $200+ on most listings. Some other products, such as the Pikachu plush, are starting to show up on the site as well, often bundled with the card.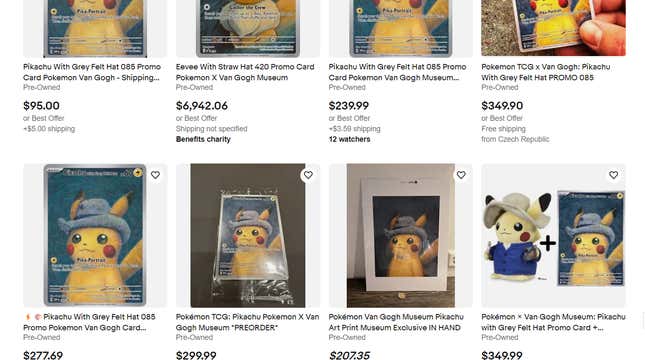 If you scroll through social media posts on sites like Twitter, you'll see plenty of folks who either couldn't access the Pokémon Center website when the sale went live, or were just too late to the sale before scalpers ravaged each listing. It's disappointing, but hardly unexpected given how prevalent scalpers have become in the Pokémon community.
The Pokémon Company responds after Van Gogh Museum merch sells out
Following the fiasco, The Pokémon Company released a statement on its own social channels apologizing to fans disappointed by the whole mess. It says it plans to provide more ways to receive the promo Pikachu card, but doesn't mention if it has plans to restock any of the merchandise.
The full statement reads as follows:
We apologize to all the fans eagerly awaiting our Pokémon Center x Van Gogh Museum release today.

Due to overwhelming demand, all our products from this collection have sold out. We understand this is disappointing to many who were looking to our official email and social media channels for guidance on how and when to purchase. We are actively working on ways to provide more "Pikachu with Grey Felt Hat" promo cards for fans shopping at Pokémon Center in the future. Details will be released at a later date.

Thank you for your understanding and continued support.
Even outside the Van Gogh Museum collab, limited-edition Pokémon merch is often reselling for ludicrous prices, such as a recent series of Santa Cruz skateboards featuring various Pokémon selling for over $20k.
The Van Gogh Museum collaboration will last until January 7, so fingers crossed we see restocks at the Pokémon Center between now and then. I just wanted the cute little painter Pikachu to sit on my shelf, for fuck's sake.
…