11 Minutes With Baldur's Gate 3's Character Creator…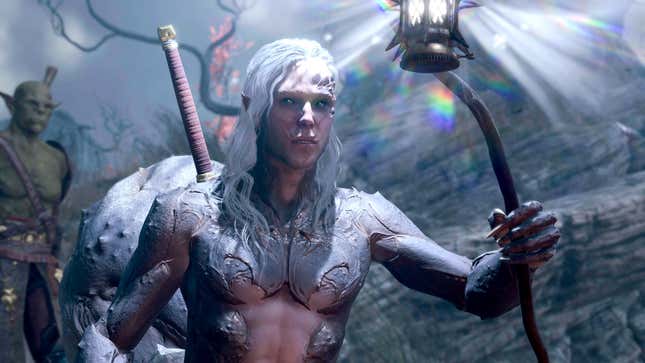 Baldur's Gate 3 may soon let you change your in-game appearance after starting the game, offering an upgrade to the already-praised character creator.
11 Minutes With Baldur's Gate 3's Character Creator
Based on Dungeons & Dragons, the fantasy RPG from Larian Studios not only lets you select your class and race but also allows you to customize your "attachments" (like jewelry and scars), hair, tattoos, and even genitals. If your imagination conjures it, chances are you can bring it to fruition. But once your character is set, that's it. Unlike other RPGs such as Cyberpunk 2077 or Diablo IV that let players change their hair, makeup, and other features on the fly, you can't swap or tweak any part of your character around in Baldur's Gate 3 once you start the game's story. However, Larian Studios' director of publishing Michael Douse revealed in a response on X, formerly Twitter, to a player who begged to change their in-game look that the team is currently working on it.
"Sir please let me change how I look in the game," X user TheTrustedTitan said. "I'm begging!!!!"
"Things are being cooked," Douse said.
Read More: Baldur's Gate 3 Lets You Customize Your Character's Genitals
Kotaku reached out to Larian Studios for comment.
Douse didn't clarify what he meant here, and there's no publicly announced timeline for when this mid-game character customization option will come to Baldur's Gate 3. But it's great knowing the look you chose to start the game won't be the one you'll have to stick to forever. It's also worth mentioning that only the PC version is out now. Baldur's Gate 3 will come to PlayStation 5 on September 6, and the team is still trying to make multiplayer work on Xbox Series S before it comes to that console and the beefed-up Xbox Series X.
Read More: Baldur's Gate 3: The Kotaku Review
Here's hoping it comes out soon, but even without it, the game is still super popular among critics and fans alike. This is just a nice-to-have, you know?
…