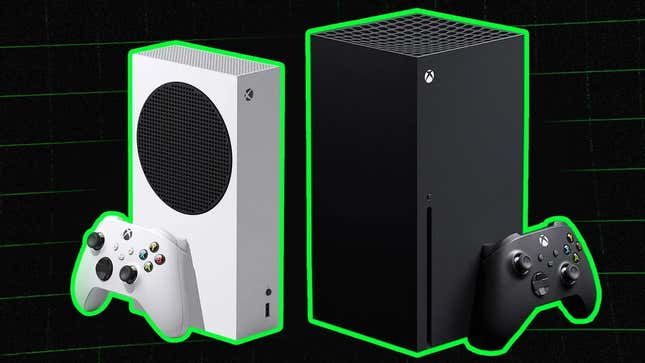 The successors to Microsoft's current game consoles, the Xbox Series X and Xbox Series S, seemingly won't be coming out until sometime in 2028. That's according to conversations between company executives that were recently made public in federal court filings following the Federal Trade Commission's failed attempt to block the Activision Blizzard acquisition back in June.
Thank You, PS Plus, For Making My Backlog Even Bigger
As first reported by Axios, transcripts of a May 2022 meeting recently released by the Northern District Court of California show Microsoft CEO Satya Nadella asking if the "plan for 2028" is to stick with a single main platform target for developers to make games for or pursue something more like the range of specs seen on PC. Based on other executives' responses, it sounds like some combination of the two.
"We have already started this journey with Xbox One and Xbox One X, furthering it in Series S | X," corporate VP Kevin Gammill wrote, as transcribed by Axios. "We need to be even more flexible going forward with gen 10, but also provide the ability for creators to take advantage of unique hardware capabilities."
Plans can always change, but the exchange makes it appear as though Microsoft will double-down on its current multi-model approach with the Series S being weaker but more affordable than the Series X, a more direct competitor to Sony's equivalent PlayStation 5. 2028 would also make the current generation nine console cycle one of the longer ones. It was six years between the PS2 and PS3, and seven between the Xbox One and Xbox Series X/S.
"I think we're kind of at the end of the beginning," Microsoft gaming CEO Phil Spencer told IGN in an interview last month, three years into the life cycle of the current consoles. Early supply shortages and game delays due to the global pandemic may have slowed things down initially, but major new game releases ticked up in 2023, and have already called into question the long-term capabilities of the less technically powerful Xbox Series S.
Despite an apparent requirement that games on Series X have gameplay feature parity with the Series X versions, Larian Studios got an exception to the rule and will eventually ship Baldur's Gate 3 for Series S without the split-screen co-op it will enjoy in other console versions. While Microsoft continues to back its weaker console, it's hard to see how it can make it all the way to 2028 without being forced to make more compromises, or some games potentially seeking to skip it altogether.
…