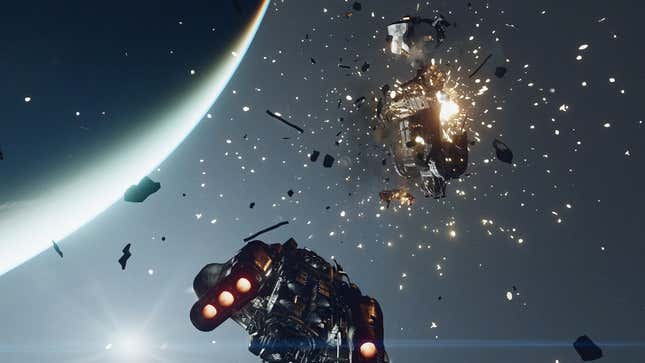 We all know that playing video games makes you cooler, stronger, and more attractive, but for Reddit user Tidyckilla, it made him and his wife remain far more alive. Staying up late to binge Starfield is the reason credited for how the couple escaped a deadly fire in their apartment.
The Week In Games: What's Coming Out Beyond Starfield
As spotted by Eurogamer, u/tidyckilla posted over the weekend to the Starfield subreddit to credit the game for his continued existence.
"Starfield literally saved mine and my family's life on September 1st," the post begins. After explaining for how long he'd been anticipating playing, the not-dead person continues, "On the night of August 31st I decided to stay up and play as long as possible to experience this new universe. At 2:26 in the morning, while playing the game, I heard an explosion from my downstairs neighbors apartment."
It seems it was no small explosion, and the resulting fire was in an awful rush. "I paused my game to see what was happen [sic], when I opened the door I saw flames rising up our stairwell to our apartment."
I immediately got my wife and cat, rushing us to safety with only minor burns. If I hadn't been up bingeing Starfield I would have been asleep and we would have all died to smoke inhalation.
The post is accompanied by a photograph of the raging fire, thankfully viewed from the other side of the street from the apartment, and frankly looks terrifying. The Redditor also posted some sad pictures of the aftermath of the fire, in response to the inevitable conspiracists claiming the story was made up. This news report suggests tragically one neighbor was killed, while three others were rescued by firefighters, with the cause of the fire under investigation.
It's further proof that staying up too late playing games is very good for you.
"I want to thank this game from saving my family and me from a horrible fate," says tidyckilla, before concluding, "PRAISE GODD HOWARD."