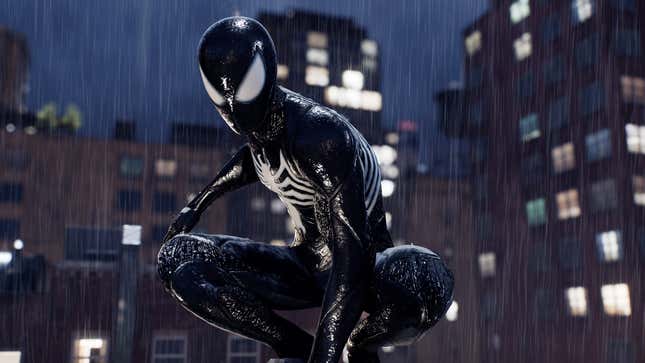 Spider-Man 2 comes out on October 20, but a big post-launch update will follow later in the year. The patch will add a new game plus mode, more accessibility options, and the ability to replay older missions.
Spider-Man 2's New Web Wings Make It Feel Like A Proper Sequel
The post-launch update was indicated in review materials Sony sent for Spider-Man 2 ahead of release, and James Stevenson—Insomniac Games' director of marketing—told fans on social media that they should expect the new game plus mode some time before the end of 2023.
Pre-order Marvel's Spider-Man 2: Amazon | Best Buy | GameStop
Beating the PlayStation 5 exclusive currently unlocks an "ultimate" difficulty setting, available to players when they start a new playthrough. However, they won't carry over any of their unlocked abilities, skills, gadgets, or suit upgrades. This will be a feature reserved for new game plus. An ability to replay story missions will also be a big boon to those who want to experience some of the biggest fights and set-pieces all over again, without replaying the entire game.
Insomniac has also encouraged players who will be buying Spider-Man 2 on disc to make sure they don't miss the version 1.001.002 day one patch. It "improves the opening sections of the game and includes other general refinements to your Spidey experience, including some additional accessibility options."
We still don't know what other post-launch content Insomniac has planned for Spider-Man 2. While 2020's Spider-Man: Miles Morales didn't get any DLC, the 2018 original game got a trilogy of of chapters introducing Black Cat. More recently, Sony has opted for single expansions, as in the case of Horizon Forbidden West's Burning Shores add-on. Whatever form its continuation could potentially take, Spider-Man 2 definitely teases plenty of unfinished story threads.
There's also still room for new gameplay features. Asked why the action-adventure doesn't have an option to change the time of day, Stevenson simply responded, "because game dev isn't simple, nor easy."
Pre-order Marvel's Spider-Man 2: Amazon | Best Buy | GameStop
.