On August 23, Sony delivered some news that's sure to get PS Vita fans mildly interested: Sony is back in the handheld game (kind of) via a dedicated remote play streaming device that'll beam pixels from your PS5 straight to your hands. It's called the PlayStation Portal remote player and it will cost you $200.
Thank You, PS Plus, For Making My Backlog Even Bigger
Back in May, Sony gave us a sneak peek at "Project Q," an upcoming handheld device that looked like someone took a bandsaw to a DualSense controller to fuse a screen to it. Using the PS5's Remote Play feature that lets you stream a game running on your PS5 to a smartphone or PC, the device was billed as a way to take your PS5 games with you while still using DualSense controller features, provided you had access to Wi-Fi and, of course, had your PS5, somewhere, plugged in, turned on, and connected to the internet. Today, that device has been officially unveiled via a blog update from Sony, losing its the Project Q delineation and gaining the title PlayStation Portal remote player. Less snappy.
Read More: PlayStation 5 Handheld Looks Even Goofier Than Expected In Leak
Sony states that the PlayStation Portal remote player will include the full features of the DualSense controller: adaptive triggers and the device's signature haptic feedback. It also sports a 3.5mm audio jack (thank god), and will use an 8-inch LCD screen to beam a streamed 1080p image at 60fps into your eyes.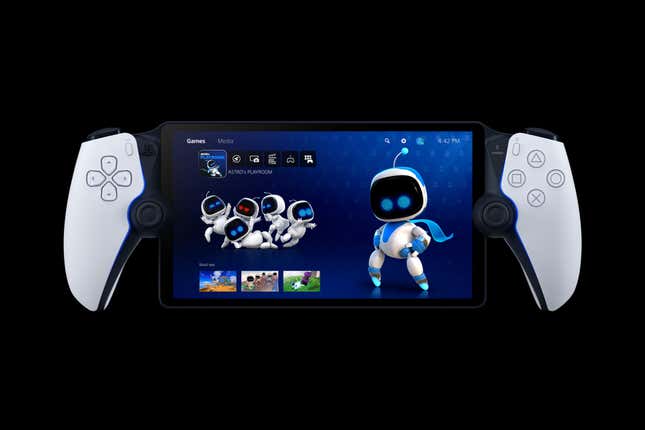 But while the device does look rather snazzy, it's important to reiterate that, unlike products like the Nintendo Switch, or portable PCs like Valve's Steam Deck, the PlayStation Portal remote player (PSPRP?) can't run games locally. In order to use it you will need to be connected to the internet and so will your PS5 back home. Sony says that this requires a wireless internet connection with at least 5Mbps, but that 15Mbps is ideal.
The device will not use any local processing power to run a game aside from what's required to transfer a streamed image. Sony gave no details about what is under the hood of the PlayStation Portal remote player.
Sony also revealed some new official PlayStation headsets along with the announcement, with a set of earbuds (named Pulse Explore) and over-ears headphones (Pulse Elite) that will retail for $200 and $150 respectively. And if you're planning to use your PlayStation Portal remote player wirelessly, you will need these as notably, Sony's upcoming handheld will not use Bluetooth, instead favoring the company's own wireless audio technology.
The PlayStation Portal remote player launches on November 15, 2023.
---
Update 9/1/2023 at 9:30 a.m. ET: Added the launch date of the PlayStation Portal.
Update 8/23/2023 at 11:00 a.m. ET: Added a detail to indicate that the PlayStation Portal remote player will not support audio over Bluetooth.