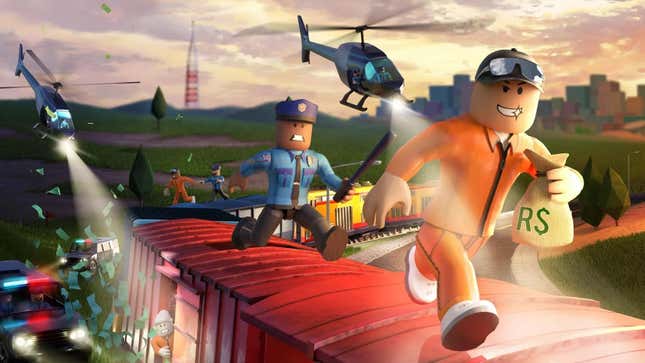 Roblox has long been accused of not doing enough to make sure its massively popular gaming platform is free of toxicity and exploitation. Now parents are joining together in a class-action lawsuit to take the $17 billion company to court over allegations that it gets children into online gambling and profits off of it.
Why The Hot New Redfall Gameplay Trailer Left Us Feeling Cold
As first reported by Bloomberg Law (via Axios), the lawsuit was filed in federal court in the Northern District of California on August 15 on behalf of parents Rachel Colvin and Danielle Sass. They accuse the enormously successful game creation tool (that doubles as an online social hangout with over 65 million active users)of violating the Racketeer Influenced and Corrupt Organizations Act, and claim it acts in concert with third-party websites "to profit from gambling games meant to attract kids."
A handful of online gambling sites are also included as defendants in the lawsuit. The parents' argument rests on the fact that Roblox users, including kids, can use their in-game Robux paid for with real world cash to gamble on virtual items. While Roblox officially bars gambling and other illicit activities, the lawsuit claims the company is complicit since it allows the funds to be transferred to the gambling websites directly through the Robux wallet, on which it earns a healthy commission.
"Each of the Illegal Gambling Websites operates on or in concert with Roblox and the Gambling Website Defendants, facilitating an exchange of Robux for gambling credits that occurs on the Roblox platform," the lawsuit alleges. "Indeed, Robux never leave the Roblox platform until they are exchanged for cash. Once a minor user's credits are exhausted, the Gambling Website Defendants cash out their newly-acquired Robux and provide Roblox with its 30% transaction fee."
Read More: Roblox Trying To Describe Adult Poop Is Very Funny
Roblox didn't immediately respond to a request for comment, but told Bloomberg Law in a statement that, "These are third-party sites and have no legal affiliation to Roblox whatsoever. Bad actors make illegal use of Roblox's intellectual property and branding to operate such sites in violation of our standards." It added that it continues to be "vigilant" in going after companies that violate its policies or "endanger the safety" of its community.
Roblox has recently tried to leverage the success of its kid-centric platform by trying to appeal to more mature audiences with games rated for users 17 and older, and tools to do job interviews inside the platform. The 'metaverse' of our dreams is apparently just another awkward conversation where someone asks you where you see yourself in five years. Roblox has lost 40 percent of its market value since this time last year, despite continuing to attract new players.