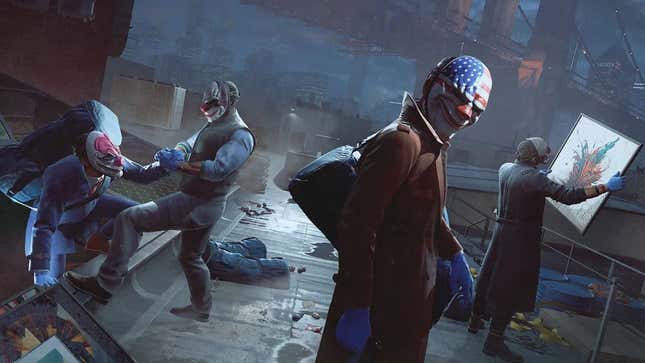 After a terrible launch week riddled with error messages, Payday 3 maker Starbreeze Studios says the matchmaking issues have finally been fixed. The promises come ahead of the heist shooter's first big patch planned for early October.
Why The Hot New Redfall Gameplay Trailer Left Us Feeling Cold
"The scheduled maintenance carried out last week has fixed the initial matchmaking issues that occurred during Payday 3's first few days after launch," the studo wrote in a new update on its website. "Matchmaking has been stable and has had good performance after the completed maintenance."
Buy Payday 3: Amazon | Best Buy | GameStop
The studio says that matchmaking infrastructure for distributing players to different servers was updated on September 26, followed by an upgrade on September 29 that added more regional nodes for distribution to "increase the speed of matchmaking and create greater redundancy across all online services." Anecdotally, it does appear that many of the matchmaking errors players were previoulsy bombarded with have gone away.
But Payday 3's widespread problems right out of the gate certainly did the always-online bank robbery sim no favors, casting a shadow over a paid "early access" period and big Xbox Game Pass launch. And even with the server issues mostly addressed, at least for now, players are still clamoring for a bunch of quality-of-life improvements. With any luck, they should be coming soon.
Starbreeze says the early October patch will include over 200 improvements across all platforms, followed by additional waves of new content and fixes in November. The fist paid DLC, "Syntax Error," is set to arrive sometime over the winter. It remains to be seen whether an offline mode will be one of the new features added to the game in the coming months. The development team had said it was considering the possibility.
"I don't really need to repeat that this was not the start we wanted," Tobias Sjögren, CEO of Starbreeze, wrote today. "But at the same time, our business model is a marathon and not a sprint and we will tirelessly continue to build Payday 3 bigger and better to deliver the greatest possible value for our players."