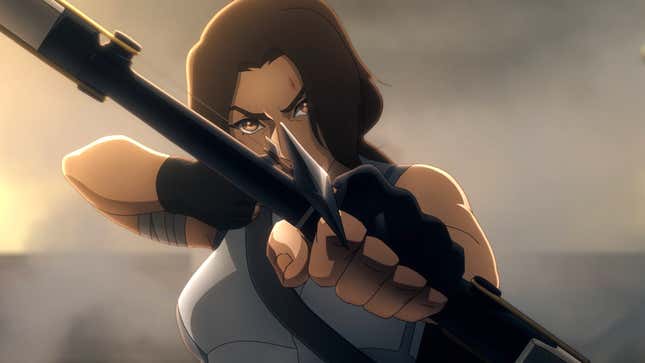 Tomb Raider's Lara Croft has been experiencing a bit of a renaissance recently. Just last month, the dual pistol-wielding explorer featured as a guest character in Call of Duty: Warzone alongside the likes of pop star Nicki Minaj and '90s superhero Spawn. Snap to today and now we've got our first official look at her upcoming Netflix animated series.
Tears Of The Kingdom's Newspaper Questline And The State Of Hyrulean Journalism
Tomb Raider: The Legend of Lara Croft, a new anime developed by Legendary Television, was unveiled during Netflix's Drop 01 livestream, an event where the streamer gave viewers a peak at all its upcoming shows, including video game adaptations like Devil May Cry, Castlevania: Nocturne. Unlike Netflix's painfully brief DMC anime teaser trailer, which didn't share much information outside of a quick look at Dante doing a cool flip, the trailer for Tomb Raider: The Legend of Lara Croft delivered some substantial details. Chief among them is that actress Hayley Atwell will be voicing the video game heroine and that the show will pick up after the events of Crystal Dynamics' video game reboot trilogy. Here's the trailer:
Netflix
Read More: Shadow of the Tomb Raider: The Kotaku Review
We first learned Netflix was working on a Tomb Raider anime back in 2021. According to a report by Deadline, the show was green-lit after the culmination of Crystal Dynamic's Shadow of the Tomb Raider. In our review of Shadow of the Tomb Raider, which asks if Croft is "a treasure-plundering jerk who wrecks other people's cultures," we said that the game matured Croft from being the "gritty survivor we met in 2013 [into being] a more complex character who actually talks to the people she meets on her travels and understands the gravity of her actions." Hopefully, Netflix's anime will continue to build on this emerging new characterization rather than reverting back to one of her more cartoonish incarnations.