The saga of a now infamous Starfield leaker has ended up with a 29-year-old man booked on a felony charge after allegedly trying to sell stolen copies of the game online prior to its September 1 release date.
Diablo IV – Bear Bender Build
Darin Harris was processed by the Shelby County, Tennessee Sheriff's Office on August 24, roughly four days after he originally posted the first 45 minutes of Starfield online. The information on the Sheriff Office's website lists a felony charge for $2,500-$10,000 worth of stolen property, a misdemeanor charge for $1,000 or less of stolen property, and a misdemeanor charge for possession of marijuana.
Harris could not immediately be reached for comment. Bethesda and Microsoft did not immediately respond to requests for comment.
The leak of the highly anticipated open-world sci-fi RPG went viral on August 22, with the grainy cellphone footage getting re-posted to various social media sites even after it was taken down from YouTube for copyright infringement. A 60-second clip on Imgur was viewed over 1 million times. Something that immediately jumped out to viewers about the video was that Harris didn't seem to have any idea what he was doing, or much familiarity with Bethesda's RPGs in particular, or modern shooters in general. In the aftermath, Harris shared another video online commenting on the initial leak.
"Todd, no offense man, that's a good game," he said, referencing Starfield game director Todd Howard. "They were saying I play like a beginner cause I'm not a game expert I was just trying something out. That's a good game y'all don't want to miss it."
Things then took a turn as Harris began uploading listings for additional copies of the game, including the coveted Constellation Edition complete with a custom-made NASA-punk space watch, to the Japanese e-commerce platform Mercari. A few of them now show as sold for roughly their retail price, including one listing that reads "RESERVED for Chris‼️ Starfield Xbox Series X/S Bundle." The account included hundreds of listings for other merchandise as well.
Subsequent videos posted by Harris seemingly showed him going to FedEx to pay for shipping of copies that successfully sold. Fans of the game and major leaks more generally suggested it was a scam. After all, how could he have gotten access to so many copies early? One video then showed him putting labels on packages with a pile of Starfield copies in the seat next to him.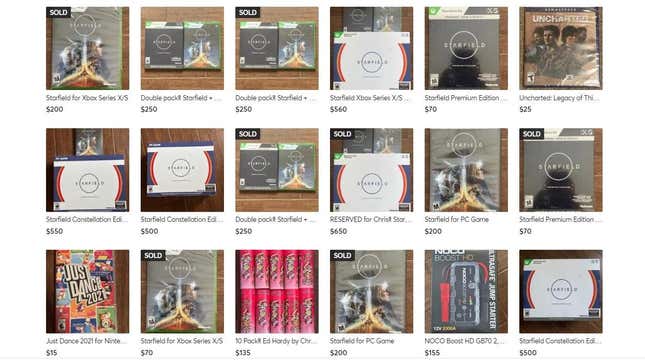 "Y'all thought I'd be out here putting stuff on the internet and it ain't real, nah baby that ain't how we do it, that ain't how we do that," he said. "Y'all used to playing with little boys."
Around August 24, Harris began clearing out his social media accounts, including deleting all of the videos on his apparent YouTube channel. By then it may have already been too late. It's unclear if Bethesda, which made and publishes Starfield, or Microsoft, which owns Bethesda, tipped local authorities off to an alleged misdeed. Harris may also have been booked for completely separate charges unrelated to his unusual social media campaign around the game.
Update 8/28/2023 9:14 a.m. ET: Harris was released from jail on August 25 after a bail of $10,000 was posted, and his next court date is September 8, just a couple days after Starfield's full release.
Update 8/28/2023 11:24 a.m. ET: According to a police report obtained by Polygon, Harris is accused of stealing 67 copies of the game, which he claims he legally purchased, from the Vantiva logistics warehouse.
The Memphis Commercial Appeal reports that police executed a search warrant on Harris' home where they found a FexEx package with a copy of Starfield inside as well as three handguns, including one that was allegedly stolen.
Microsoft and Bethesda have not responded to requests for comment on whether they helped initiate the investigation.