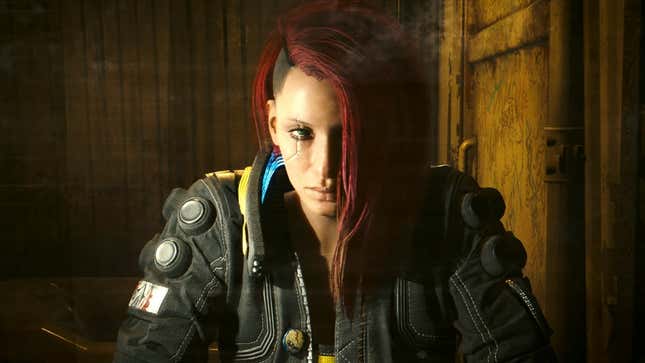 Cyberpunk 2077's 2.0 update and Phantom Liberty DLC expansion has completely revived the open-world RPG, and, for many, finally turned it into the immersive sci-fi blockbuster they'd been dreaming of based on all those E3 trailers. But more fixes are still on the way. An upcoming 2.01 patch will address corrupted saves on PlayStation 5 and other issues.
The Week In Games: What's Coming Out Beyond Call of Duty: Modern Warfare 3
CD Projekt Red previewed some of the patch notes for the smaller hotfix on Friday, September 29, noting that the actual update will include even more changes once it finally arrives. In addition to solving the corrupted save issue on PS5, the studio is also promising improved framerate performance in Dogtown, Phantom Liberty's big new area, on both PC and console. A bunch of mission bugs are also getting taken care of.
Here's everything in the preview for patch 2.01:
The distorted effect caused by selecting a specific dialogue option when talking to Johnny at the end of Automatic Love will no longer persist on the screen.
V will no longer die in The Heist by falling through the elevator when riding to the 42nd floor with low FPS.
Fixed an issue where the UI could show controller inputs when playing with keyboard and mouse.
Made it possible to properly switch to arms cyberware by cycling through weapons.
Gig: Breaking News will be properly triggered after approaching the quest area.
Vehicle radio volume will be adjusted so it's not too quiet when compared to other sounds in the game.
Addressed the issue of corrupted saves on PlayStation by increasing the maximum save file size limit. Note: this won't fix the saves corrupted before the update. If you're experiencing the issue, keep a working save (e.g. resave it as manual save) till 2.01 arrives.
Performance improvements for both PC and consoles, especially in the Dogtown area.
Some PS5 players began to report issues with their save files shortly after beginning Phantom Liberty. The problem seemed to target those who went into the expansion with save files from before the 2.0 update (versus players who started completely new playthroughs). The save data apparently started to become damaged after the second mission "Hole in the Sky," with no clear workarounds beyond loading earlier save files and trying again. Fortunately, it sounds like the issue will be taken care of soon, though CD Projekt Red points out that players will want to make sure you hold on to a "working save" until 2.01 releases "soon."
Despite Cyberpunk 2077 shooting back up the sales charts and becoming one of the most played games on Steam again, CD Projekt Red has confirmed that these last batch of updates will conclude its post-launch support for the game. The studio is currently pivoting resources back to its next open-world Witcher game, with a smaller team beginning early concept work on Cyberpunk 2077's sequel.