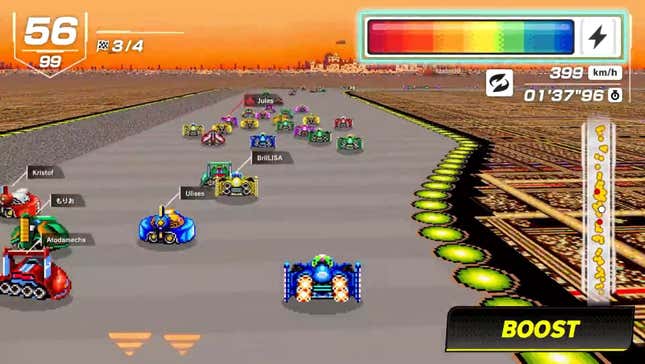 During today's Nintendo Direct presentation, the company revealed that the classic high-speed futuristic racer F-Zero will make a return as a…battle royale speedster.
What You Should Know About Mario Strikers' Big Free Update
Dubbed F-Zero 99, the game puts you against 98 other racers in a bid for the first place trophy. Featuring iconic courses and recognizable vehicles from the OG SNES game, F-Zero 99 brings its retro aesthetic to the Nintendo Switch console. Be careful as you race, though, because should your machine take too much damage, and its power meter completely deplete by crashing into other cars or guardrails, then you'll simply explode right on the raceway. Ouch.
Nintendo
That same power meter, however, can be reserved for a temporary speed boost to zip you passed the competition. And if you collect enough super sparks, yellow orbs that spawn after vehicles collide with each other, then you'll soar onto an ethereal track known as the skyway. This blue raceway, floating just above the main track, gives you the best chance to jump into a better position.
There are also in-game goals you can complete to unlock more cosmetic options for your vehicles, though they appear to largely be reskins so far.
F-Zero 99 is obviously quite reminiscent of other Nintendo Switch Online battle royale offerings such as Pac-Man 99 and Tetris 99, both of which put you against 98 players to become the last one standing in their respective gameplay challenges. Who knows which other classic licenses the company is currently turning into a mass brawl.
F-Zero 99 will be available exclusively for active Nintendo Switch Online members later today. NSO, the company's relatively cheaper subscription service that grants you access to online gaming and classic games, is also how you can play Pac-Man 99 (before it shuts down on October 8) and Tetris 99.
Buy Nintendo Switch Online: Amazon | Best Buy | GameStop