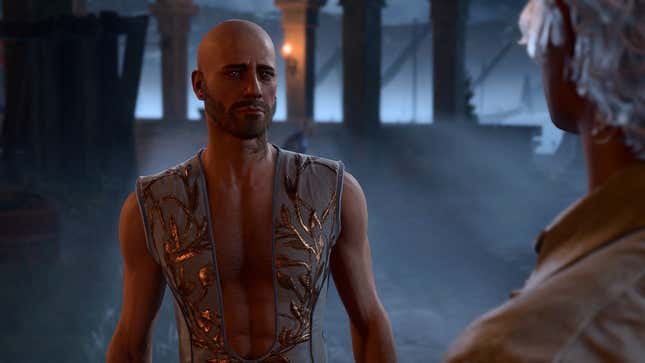 Baldur's Gate 3 has a myriad of choices for building your character from the moment you boot up the RPG, including its 12 different classes, which range from magic users to standard sword-and-board warriors. Developer Larian Studios has released early statistics since the game launched on August 3 for the characters and decisions players are making, and one class is pulling ahead of the others by a pretty significant margin: Paladins.
The Week In Games: What's Releasing Beyond Baldur's Gate 3
Larian laid out the spread of Baldur's Gate 3's class distribution for custom characters in a big infographic posted to the game's Steam Page. Paladin takes the top spot with over 200,000 players choosing to take the Paladin's oath. Sorcerer came in second, followed by Warlock. The full ranking is as follows:
Paladin
Sorcerer
Warlock
Rogue
Bard
Barbarian
Fighter
Ranger
Wizard
Monk
Druid
Cleric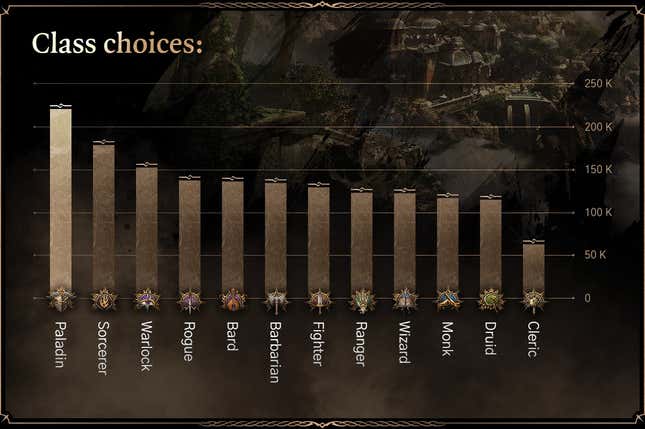 R.I.P. to Clerics like Shadowheart, but the class ranks at the bottom at just over 50,000 players choosing the way of the god-fearing healer/warrior. Some of these rankings make sense because the higher classes fill in the gaps of the main party. There is a Paladin inin Minthara, but she's also only recruitable if you do some terrible shit. (No, you can't fix her.) Be the Paladin you want to see in your party. Cleric, meanwhile, is covered by Shadowheart, who is one of the earliest characters you recruit. So no need to make things redundant by being one yourself.
Meanwhile, there is no Sorcerer or Bard in your party, so it makes sense that players might want to learn those abilities to fill out the group. Plus, when you're a Bard you can just start playing your instrument to change the music during battle, which rules.
Party composition is only one part of Baldur's Gate 3's dense RPG systems, and they can all be pretty overwhelming. Be sure to check out some of our early game tips to help you cut through the noise.