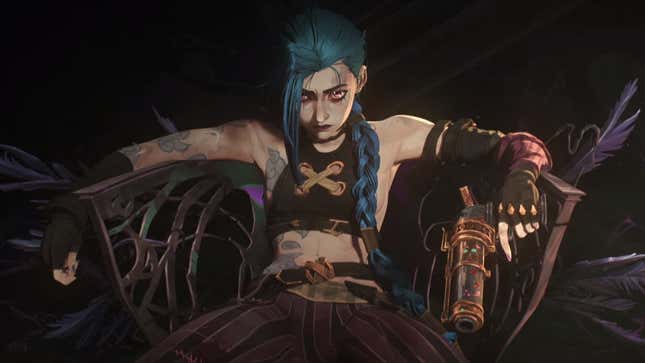 The second season of Netflix's popular League of Legends animated series, Arcane, is reportedly expected to release sometime towards the end of next year.
Netflix's One Piece Live-Action Trailer Has A Treasure Trove Of Anime Easter Eggs
The news of the show's return, which was shared on Twitter by League of Legends fan account LeagueOfLeaks, was apparently announced by Riot Games' parent company Tencent during its 2024 Video V Vision Conference. While LeagueOfLeaks's post only reveals that the show will return sometime in Q4 of 2024 (October-December), fans on the r/leagueofLegends subreddit theorize that the sequel-prequel to the original MOBA game will release sometime in November just like its first season did. Their theory is further supported by the fact that it would land around the same time as League of Legends' 15th anniversary event
Kotaku reached out to Riot Games, Tencent, and Netflix for comment.
Read More: The Biggest Fan Theories For Netflix's Second Season Of Arcane, Explained
In our review for Arcane, former Kotaku writer Ari Notis loved the show despite not being a huge LoL fan, saying:
Lest you worry that you need familiarity with League lore, I'll note, with a confession, that you'll get by just fine without it. I don't know anything about the source material, haven't ever played the game, couldn't even name any of its characters before watching Arcane. In fact, I think my knowledge gap has only enhanced my enjoyment.
League of Legends
Read More: The Best (And Worst) Video Game Adaptations You Can Stream Right Now
Arcane's second season was announced in November 2021, during Riot Games' two-day Undercity Nights event, just two weeks after its series premiere. At the time, fans expected season two of the critically acclaimed video game TV series to take at least six years to complete like its predecessor. Riot Games CEO Nicolo Laurent reassured fans they wouldn't have to wait as long for Arcane season 2 in a 2021 tweet, with the caveat that the show wouldn't be done by 2022—which would've been an impossible turnaround for any animated show, especially for one as visually demanding as Arcane was.